Are you feeling unwell or tired in general or having low-grade fever?

Have you been advised to go for regular monthly checkups for diabetes or hypertension?

Are you seeking a solution to your autoimmune disorders or freedom from chronic headaches?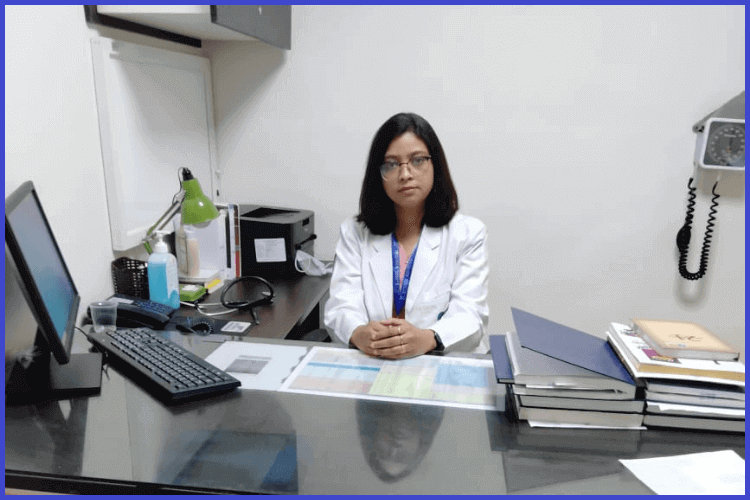 As a resident of Bhopal, it makes sense to approach the best doctor in Bhopal. Dr. Rashmi Verma is a general physician in Bhopal with nearly seven-plus years' experience in treating patients. She is a patient-friendly doctor who believes in holistic treatment in the best interests of her patients and their health
Residents of Bhopal can approach Dr. Rashmi Verma, a leading doctor in Bhopal for the treatment of various medical conditions such as diabetes, conservative diabetic foot treatment, high blood pressure, arthritis, lupus, headache, and much more.
Dr. Rashmi Verma believes in understanding the patient, reaching out to the root cause of the disease or disorder, and then suggesting the treatment. She also, take the effort to discuss the medical issues and treatment approach in simple language. As a practicing general physician in Bhopal, Dr. Rashmi Verma is a dedicated medical professional who believes in counseling patients along with prescribing suitable medicines. She also works towards maintaining a healthy doctor-patient relationship.
In fact, she takes extra effort to understand her patients well. She advises her patients to take their medical conditions, treatment seriously. At the same time, she stresses that follow-ups with the doctor should be done as suggested for total recovery. Dr. Rashmi has acquired experience in treating various lifestyle disorders. She has successfully treated patients with diabetes, diabetic foot, and other microvascular complications, hypertension, anemia, thyroid, and other endocrine disorders.
Apart from that, she treats patients suffering from rheumatoid arthritis, systemic lupus erythematosus - SLE and autoimmune disorders, tuberculosis – TB and other infectious diseases. Dr. Rashmi is a well-versed and highly experienced doctor in Bhopal. She has immense medical knowledge and treatment options to treat a wide range of disorders. Her patients relate with her very well. They respect and have faith in her. They have recovered successfully and hence have complete trust in her and her treatments.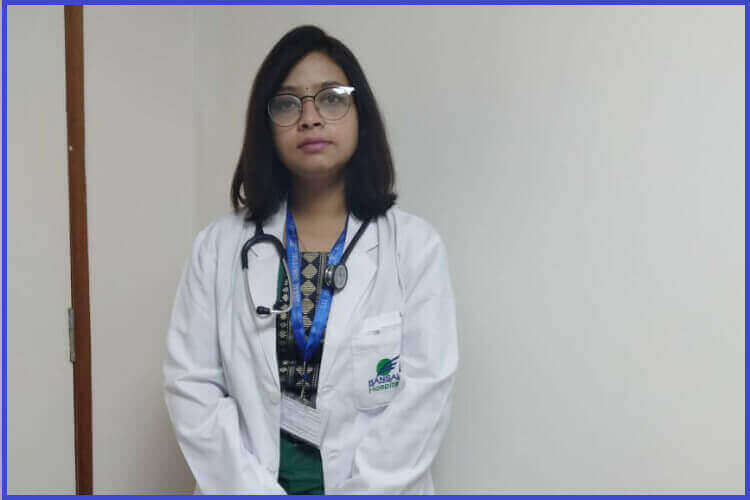 Dr. Rashmi's Mission
As a doctor, I stand committed to offering medical services to patients, irrespective of their standing in society while maintaining the ethics of the medical community. I relate well with my patients and interact with them, their family members to counsel and guide them in adopting the right path to recovery. I genuinely want my patients to live a normal healthy life.
Work Experience
Currently, Dr. Rashmi is working as a consultant in internal medicine at Bansal Hospital, Bhopal.
Dr. Rashmi was a Senior Resident at All India Institute of Medical Sciences - AIIMS, Bhopal which she joined in 2018.
Her previous stint was in BRD Medical College, Gorakhpur as a Junior Resident from July 2014 to July 2017.
Specialty Postings
At AIIMS BHOPAL –
Inpatient & Outpatient, emergency (Medicine) – Assessment, Management & follow up
Outpatient in Diabetes specialty clinic- Assessment, Management and follow up
Outpatient in Hypertension specialty clinic- Assessment, Management and follow up
ART-LINK centre for 1 month
Rotatory Critical care ICU posting
Department of Neurology- Outpatient and Inpatient - Assessment, Management and follow up
Department of Cardiology - Outpatient and Inpatient - Assessment, Management and follow up
Qualification and Education
Dr. Rashmi has completed her schooling at CMS Degree College, Lucknow in Uttar Pradesh.
After that, Dr. Rashmi Verma completed her MBBS from MLNMC Allahabad/ KGMU, Lucknow, UP in 2013.
She then finished her MD (Internal Medicine) from BRD Medical College/ DDU, Gorakhpur, UP in 2017.
Dr. Rashmi Verma was the recipient of a Certificate of Honour during her MBBS.
Workshop/Training Programme
NAMSCON 2019 - Attended "Continous Glucose & Ambulatory Blood Pressure & Holter Workshop''
Attended as a delegate 'WORLD HEPATITIS DAY'' celebration - 2019
Attended as delegate "Approaches In Rheumatology'' CONNECT 2018 at AIIMS BHOPAL.
Postgraduate Program in Cardiology from the Johns Hopkins University School of Medicine - 2017
Attended as Delegate UPAPICON - 2016.
Postgraduate Course in Gastroenterology from American College of Gastroenterology. 2015.
Additional Information
Dr. Rashmi has written an MD Thesis on Serum Iron Profile and Haemoglobin levels in Chronic Kidney Disease.
She has also published - Rashmi Verma and Deepshikha, 2018. "Serum Iron Profile and Haemoglobin level in Chronic Kidney Disease", International Journal of Current Research, 10, (11), 75704-75706
Excellence in Sports Activities
She participated in the 46th National School Games at Guwahati, organized by the Directorate of Sports & Youth Welfare, Assam.
She is an excellent swimmer and has won many awards at the 46th State Level
Interschool Swimming Competition 2000 Organized by the Directorate of Education, Uttar Pradesh.
She has received a gold medal for 100 meters and 400 meters swimming race and a silver medal in 100 meters swimming race.
It is very fortunate that Dr. Rashmi Verma, a general physician in Bhopal is available for consultation and treatment.